Google Sheets
Configure Google Sheets with Zing
Google Sheets is widely used cloud spreadsheet. Setting up Zing with Google Sheets is the easiest way to to get started with Zing, as it requires no database connection. You simply provide the URL to your Google Sheet, and you can set up Zing to connect to as many Google sheets as you'd like. This is also the best way to import CSVs (assuming they are within Sheets' size limitations).
You can also connect to a Microsoft Excel file by importing it into Google Sheets and then connecting Google Sheets to Zing.
You can connect Zing to Google Sheets from either the Zing web console, the Zing web app, the iOS app, or Android.
You'll need:
A correctly formatted Google Sheet with field names in the header row. Your sheet should contain only the data you wish to import. Only one table per sheet. Field names should not include special characters.

Google Sheets URL with link visiblity set to 'anyone with the link'. Once the sheet is imported you can revoke this permission if you wish.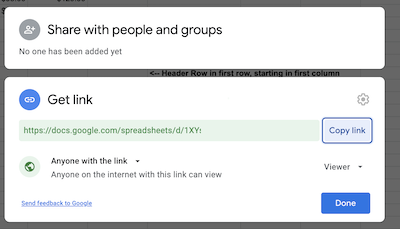 Note that unlike all other data sources in Zing, Google Sheets imports are not 'live' connections. That is, Zing takes a 'snapshot' of the sheet at the time of import but subsequent changes to the sheet will not automatically update in Zing. If you'd really like it to be a live connection, let us know.
Web Console
Add a Google Sheet as a data source from the web:

Tap 'Google Sheets'

Enter your Google Sheet URL

Tap 'Save'

Check for any warning messages which might indicate the sheet was incorrectly formatted

The data source you just added will be available to everybody in your organization.
App
To add a Google Sheet as a data sert from your phone:
Go to the sources tab

Tap 'Add a new data source'

Enter your Google Sheets URL

Tap 'Confirm data source'