Trino / Presto / Starburst
Configure Trino with Zing
Trino is an open source distributed query engine, and is the successor to Presto. Starburst provides a hosted version of Trino. Zing Data works with Trino, Presto, and Starburst variants.
Connect Zing to your Trino database from the Zing web console.
You'll need:
Hostname which is the URL or IP address of your database
Port which is the port that your database is live on – typically 3306 by default for Postgres, but your port may differ
Database Name which is the name on your hostname IP / URL you database is referenced by
Username which is…your username. Best practice is to create a read only user
Password which is…your password. Zing will encrypt this.
Catalog specifies which driver is used to run your query. Read more here.
Schema defines a set of tables that can be queried. Read more here.
Right now, Trino data sources must be set up on web (but are accessible across both Zing Web and Zing Mobile apps).
To add a Trino data source:
Go to your Zing Data Web Console and ensure you are logged in

Tap the 'data sources' tab

Enter your Trino credentials, as outlined above.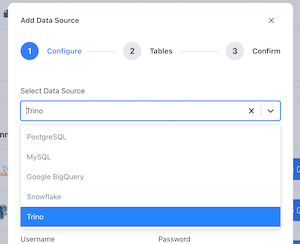 Choose if you'd like to make all tables in your schema visible, or if you'd like to select only certain tables to be visible.

Tap 'Save'

The data source you just added will be available to everybody in your organization.